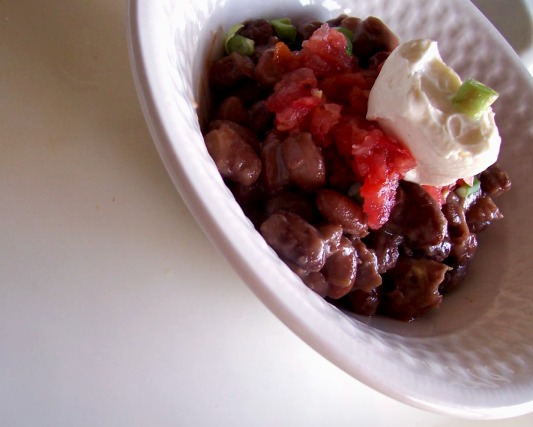 Is it possible to take a pretty picture of beans? Aesthetics aside, beans are a frugal protein source that, when prepared properly, can be quite nourishing. They can be pretty bland, but when combined with the right seasonings they are down right delicious. After cooking beans in a big pot on the stove top the only problem I found was that they would scorch easily. Enter the slow cooker.
I found this recipe for crock pot pinto beans a long time ago over at Simple Mom. I have tweaked it a bit to suit our tastes, but the cooking method is exactly the same.
When I cook beans in the slow cooker I either sprout them or soak them for at least 24 hours. When sprouted, beans tend to lose their unpleasant side effects. I have found, however, that beans that have been soaked are much easier digested when cooked in homemade stock and accompanied by a lacto-fermented condiment such as cultured salsa.
I love how my kitchen smells when these simmer away all day. I like to serve them as bean bowls or along side tacos or taco salad. They are great when garnished with cheese, sour cream, salsa, onions, or cortido. And actually I found myself eating them plain for lunch today and I don't think I've ever done that with any other "plain bean" recipe. So this may be a good recipe to convince those who are anti-bean to give them a try.
Slow-Cooker Pinto Beans
Ingredients
4 cups pinto beans, sprouted or soaked for 24 hours
1 tablespoon cumin
1 tablespoon sea salt
4 garlic cloves, smashed and peeled
1 sliced jalapeno, 5-8 slices of jarred jalapenos, or 1/4 tsp red pepper flakes
water and/or stock to just barely cover beans
Directions
Rinse beans that have been sprouted or soaked for 24 hours. Dump them in your slow-cooker. Add all other ingredients and cover with enough water and/or homemade stock to cover. I usually use half and half.
Cook on high 6-8 hours, until beans are tender and liquid has thickened to your desired consistency.
Serve and enjoy!
Hop on over to the Nourishing Crock Pot Carnival for lots of great ideas for how to use your slow-cooker!