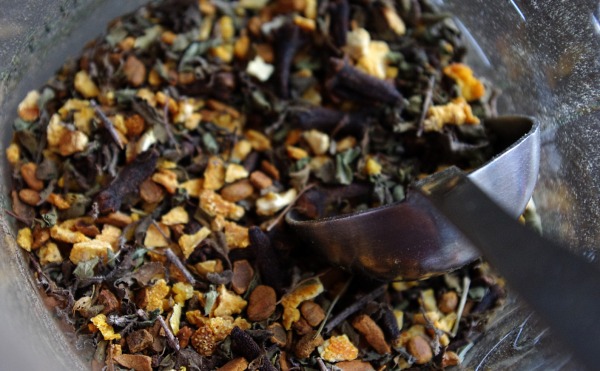 You already know that I favor loose leaf teas and drink several over-sized mugs of my favorite teas per day.
And by several I mean five.
With all that tea drinking I like to know that those cups are providing some sort of benefits beyond the warm and tasty beverage factor. So this past year we've been enjoying tulsi, also known as holy basil.
From what I've read this is a very popular herb in India and people use it daily, often fresh, for its health benefits. I even tried to grow the stuff in my herb garden this past year, but either I messed up or our mid-western climate isn't ideal for a plant grown in ASIA.
Both are equally likely.
Tulsi is an adaptogen which means it helps the body adapt to physical, chemical, or environmental stress. I really like how it makes me feel more balanced and clear-headed and I brew up a cup for the papa when he's not well or a bit stressed.
The flavor of tulsi is slightly green with notes of clove. It is delicious paired with citrus and spice as in this Orange-Spice Tulsi tea. We love both the flavor and the calming effect it brings.
Which is why you're gonna want to make it for the children.
Orange-Spice Tulsi Tea
Recipe Note: Since I botched the holy basil in the garden this past year I source mine from my affiliate, Mountain Rose Herbs. Their quality and growing practices are both outstanding.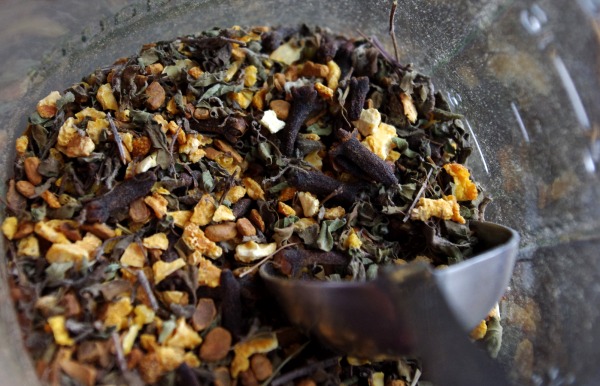 Ingredients
1/2 cup dry tulsi leaf
1/4 cup dried orange peel
1/4 cup cinnamon chips
1/4 cup whole cloves
Directions
Mix all ingredients in a bowl and store in an airtight jar in a dark, cool place.
To brew: For each cup pour 8 oz boiling water over a heaping teaspoon of tea. Brew for 5 minutes or more, depending on taste. Sweeten if desired.
What are you brewing up these days?