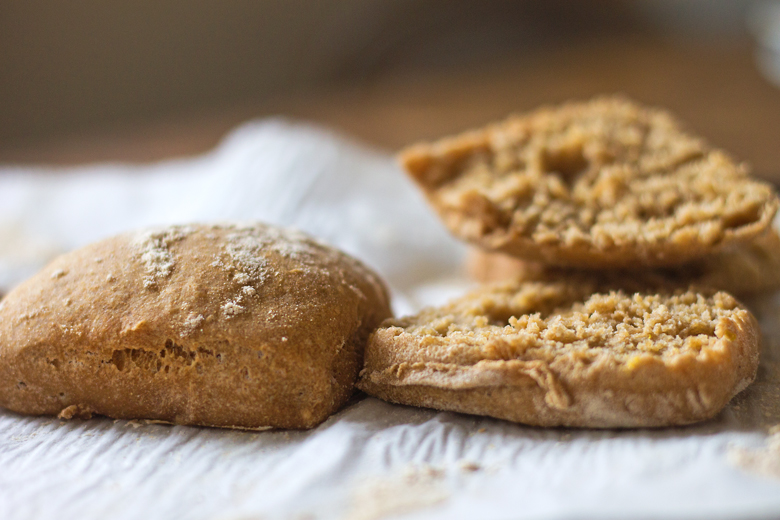 For this easy overnight bread I simply mix four ingredients together in a bowl right before I go to bed. The next morning, whenever I get around to it, I dump the dough onto a floured work surface. Pat it down and cut into squares. Let rise 1 – 1.5 hours and then bake. That's about 10 minutes of hands-on time for fresh sourdough bread.
Breads like these are the kind I bake several times per week for my bread eaters and I know I wouldn't do it if it weren't so simple. These little rolls are somewhere between a soft dinner roll and an English muffin. They have lots of nooks and crannies for holding grass-fed butter and work great for tucking in homegrown eggs for breakfast.
When it comes to bread there are only a few requisites in our house. As the baker, I choose breads that are simple and hands-off and sustainable in the sense that I can make it frequently without it being a huge burden.
Secondly, it has to be homemade and fermented. Homemade so we can do it inexpensively and make sure we're eating real food. Fermented because the lactic acid in a sourdough starter helps to break down the grain, boost the B vitamins, and leaves us without that heavy feeling often felt after eating bread.
Sourdough starter also allows us to avoid having to buy commercial yeast. This, again, saves money but we also just feel better when we avoid commercially-leavened breads. It might be the yeast or the lack of the non-industrialized fermentation process, but either way its recipes like this that make eating bread regularly possible.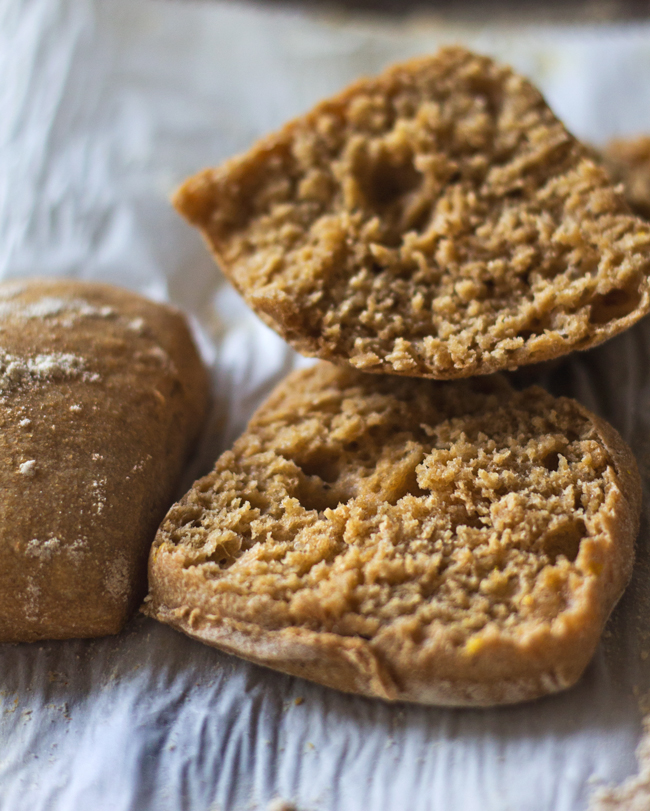 Easy Overnight Sourdough Rolls
Note: All-purpose flour does work in this recipe but it does not absorb as much moisture. To compensate, knock the hydration down by lowering the water volume to 1 1/4 cup.
Ingredients
Directions
Combine the starter and water in a large mixing bowl. Add the salt and flour and mix with a fork or wooden spoon until all of the flour is hydrated. Cover and allow to ferment overnight at room temperature.
After 8-12 hours, generously flour a work surface or parchment-lined baking sheet. Pour the dough onto the floured surface and sprinkle again lightly with flour. Pat the dough down into a rectangle one inch thick. Use a dough scraper or large, sharp knife to cut the dough into 12 squares.
Space the rolls evenly on a baking sheet and cover with a damp cloth or plastic wrap. Allow to rise in a warm place for 1 – 1.5 hours. After 45 minutes of rising time, preheat the oven to 450 degrees.
Once the rolls have had their rise time (they should have puffed slightly but will not have doubled), place them in a hot oven and bake 20-25 minutes or until golden and cooked through. To serve, split with a fork and pass the butter, jam, or fried eggs.
For more easy-to-make naturally leavened breads (both wheat and gluten-free) see Traditionally Fermented Foods, available for pre-order now and everywhere May 9th.