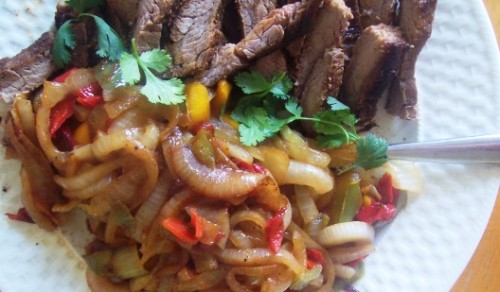 For some reason wrapping dinner up in a lettuce cup is much more exciting than just putting it all together in a salad. At least that is how things are in my home.
When I saw local grass-fed flank steak on sale at our health food store, I grabbed one up and immediately thought of fajitas. No tortillas, no problem.
I bought ice berg lettuce for the first time in at least 5 years and found the crunch of the lettuce to be the perfect contrast to the soft, but boldly-flavored fillings.
Of course you could wrap these up in tortillas or put them together in a salad, but I assure you, this will be much more fun.
Beef Fajitas with Peppers, Onions and Cumin Spiked Vinaigrette
Beef & Marinade
Ingredients

1 lb. grass-fed flank steak
juice of 1/2 lime
1 tablespoon olive oil
1 teaspoon ground cumin
1 teaspoon garlic powder
sea salt & pepper
Directions
Mix lime juice, olive oil, ground cumin, garlic powder and salt and pepper together in a baking dish or gallon-sized ziploc bag.
Add flank steak to marinade, evenly distributing all of the components.
Allow to marinate for at least 2 hours in the refrigerator, or overnight.
Meanwhile, prepare the vinaigrette…
Cumin Spiked Vinaigrette
Ingredients
juice of 1 lime
enough red wine vinegar to bring acidity up to 1/4 cup
1 large garlic clove, minced
sea salt and pepper to taste
1/2 teaspoon cumin
3 tablespoons mayonnaise
1 teaspoon freshly chopped cilantro
enough extra virgin olive oil to make 3/4 cup total dressing
Add lime juice to a pint-sized mason jar or a measuring cup. Add red wine vinegar up to the 1/4 cup measurement.
Add garlic, salt & pepper, cumin, mayonnaise and cilantro.
Slowly drizzle in olive oil while whisking, until the dressing meets the 3/4 cup measurement.
Peppers, Onions & Assembly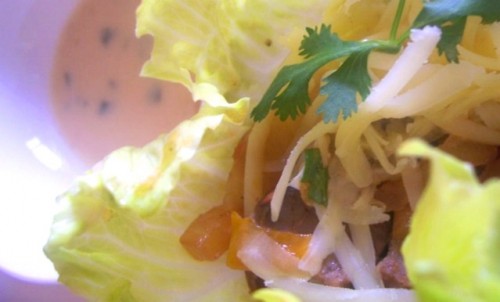 Ingredients
1 large onion, sliced
1 large bell pepper, sliced or 1-2 cups mixed, sliced bell peppers
2 tablespoons grass-fed butter
1/2 teaspoon ground cumin
1 head of ice berg or butter lettuce, large outer leaves separated to act as cups
Preheat skillet over medium heat until hot. You'll want to turn your exhaust fan on for this :). Remove steak from marinade and cook in skillet until it has reached your desired doneness (we prefer medium-well).
Once steak has finished cooking, remove it to a plate or tray to rest.
Lower heat in skillet to medium-low and add butter, onions and peppers. Saute with a pinch of salt until softened. Stir in cumin.
Slice the flank steak against the grain and arrange alongside the peppers and onions. Serve in lettuce cups with grated raw cheese, vinaigrette and cilantro.
This post is a contribution to works for me wednesday and real food wednesday.