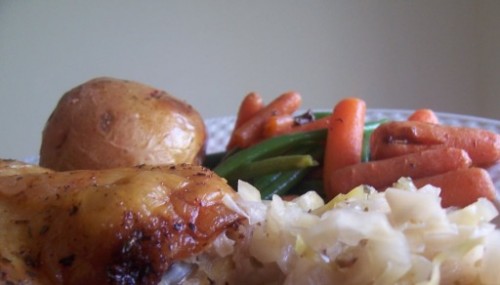 For some reason roasting a whole chicken (or turkey) seems like such a time consuming proposition, probably due to memories of elaborate Thanksgiving feasts. It really isn't, though.
It takes a few minutes to prep the chicken for cooking, which is the time it takes to preheat your oven. After that most of the work is done by your oven, you just have to throw in some vegetables, turn the temperature down and then throw in some more vegetables.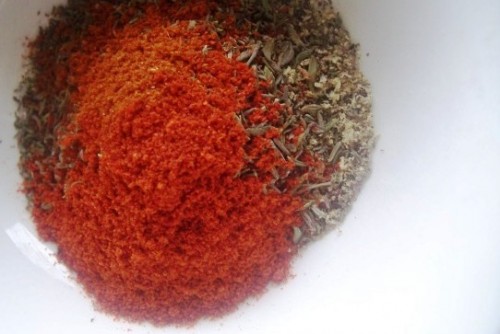 That is why this is one of my favorite dinners, and one we enjoy at least every two weeks. Making a whole chicken every other week also allows me to have homemade chicken stock on hand, which makes for even more simple and delicious meals.
Roasted Chicken & Vegetables
Recipe Notes: I have given you my favorite spice rub combination for chicken, but you can use whatever seasonings or spices that you prefer. You can also stuff the chicken with onions, garlic, citrus and herbs if you have extras lying around. You can use any sized chicken, simply adjust the cooking time accordingly and watch the internal temperature. Serve with a lacto-fermented vegetable (I prefer cortido) or a salad.

Ingredients
1 ~ 5 lb. roasting chicken
2-4 tablespoons butter, melted
1 1/4 teaspoon sea salt
1/2 teaspoon black pepper
1 teaspoon dried thyme
1/8 teaspoon cayenne
1/2 teaspoon paprika
2-3 lbs. vegetables of your choice
Directions
Preheat oven to 425 degrees. In a small bowl combine salt, black pepper, thyme, cayenne and paprika.
Prepare chicken: Remove any gizzards in the cavity and wash if desired. Place in a roasting pan or an 11×13″ pan and let the chicken dry out or pat dry with paper towels.
Pour melted butter over chicken and disperse evenly with your hands. If you separate the chicken breast skin from the flesh you can rub butter and seasonings directly on the meat. Sprinkle spice rub over entire chicken, inside and out, rubbing it in as you go. You can also tie the legs together if you wish, but I do not find a difference in the end result.
Place chicken in the oven and cook for 30 minutes while you prepare the vegetables. Choose a combination of longer cooking and shorter cooking vegetables. The longer cooking vegetables should be cut into uniform pieces, or roasted right alongside of the chicken from the beginning, as in a baked potato. Carrots, winter squash, potato and sweet potato are all good choices. Shorter cooking vegetables such as green beans, broccoli, mushrooms and zucchini can be prepped and reserved for later.
After 30 minutes remove the chicken from the oven and turn the heat down to 350 degrees. Add the longer cooking vegetables to the pan, mixing them into the pan drippings. Place pan back into oven and allow to cook for 45 minutes.
After 45 minutes remove pan from oven, insert meat thermometer between the leg and thigh of the chicken and add shorter cooking vegetables to the pan.
Remove the pan from the oven when the chicken has reached an internal temperature of 180 degrees and vegetables are cooked through.
Very important: Allow chicken to rest for 15-20 minutes, covered with foil if you like, to allow the juices to redistribute before cutting.