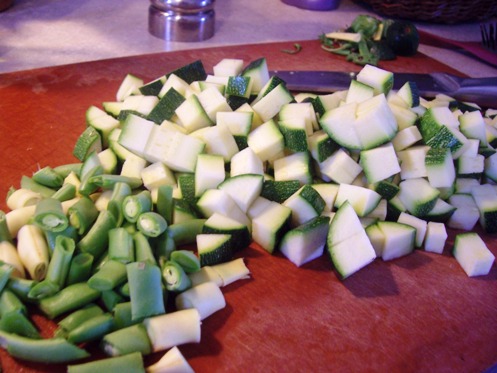 It is cold, windy and damp here. All of our snow has melted over the past few days, but we are expecting more on Saturday. That means I won't exactly be getting fresh produce from the market or our own garden.
So why did I write a check out to a farmer last week when I won't see an ounce of produce for four months?
We are joining a CSA.
CSA stands for community supported agriculture. It is akin to investing in a farm. You pay the farmer a fee upfront, sign a contract and when harvest season starts you receive a share of whatever is harvested that week.We did this two summers ago and I loved it. I highly recommend seeking out a CSA. With that in mind, I'd like to share some pros, cons and information with you.
What To Be Aware Of
You are taking a stake in the outcome of a farm. If there is drought and they produce very little that means you will get very little.
There will probably be items you've never cooked or eaten before. I actually think this is a good thing, but some people don't like to move outside of their comfort zones.
You won't get a ton of produce right away. When we did it two years ago the first two weeks were pretty sparse. I started wondering what I got myself into. By September I was taking home several paper grocery bags full of just bell peppers, along with boxes and bags of everything else.
You need to start looking ASAP. Our CSA is not only expanding by 200 members, but said that they still won't have enough openings for all who have expressed interest. It is generally first come, first served.
What I love about CSAs
It is all organic (assuming your farm is organically run) and at it's peak – in both nutrition and flavor.
You support a more sustainable food system. Think that buying factory farmed meat and produce shipped around the world isn't a problem? Think again.
You know where and who your food comes from.
You receive different and unusual produce every week, forcing you to branch out and take in a variety of flavors and nutrients than you might not find in the grocery store.
It is the next best thing to growing it yourself.
You can find more than just produce. I was able to find a grass-fed meat CSA in our area.
It allows you and your children to learn about how food is grown and what grows well in your region.
How To Find A CSA
Local Harvest. My favorite, and the one I use. This easy to use resource is great for finding farmer's markets, CSAs and local food.
If you go to the farmer's market ask around. Many farmers know each other and even if there isn't a farm in your area running a CSA, you will encourage them to start one through your inquiries.
Other Resources for Local Food