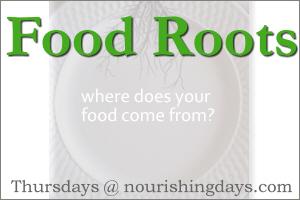 Where did your breakfast come from? Were the chickens trapped in cages in a faraway land? Was the cereal made of grains completely altered from their natural state? How about that hamburger, chicken, soy product or vegetables that you ate for dinner? Were the animals injected with hormones that will make your daughter hit puberty far too early? Does the boxed side dish contain all sorts of soy and chemicals that suppress your thyroid? Were the vegetables shipped across the country, or worse from a foreign land?
How much of a nonrenewable resource was used to fill your plate?
If we do not want our children to pay for our way of life then we have to know where our food comes from. Voting for the "greener" candidate at the ballot box means nothing if we do not change the way we live.
Whether we know it or not we vote every day with our dollars.

This year our family is challenging ourselves to grow, purchase, eat and preserve as much local food as possible. As part of our journey towards homesteading we are hoping to sustain ourselves as much as we can without industrial foods or even grocery store visits.
To spur us on in this challenge I wanted to chronicle our experiences, triumphs and failures right here at Nourishing Days. And I want you to help me get the word out about eating local, sustainable foods.
Which is why I would like for you to join me every Thursday in sharing where your food comes from.
Topics can include:
gardening
harvesting
farmer's market lute
CSA shares
menu plans or meals using local foods
seasonal recipes
food preservation
anything else pertaining to local, seasonal foods
We will start next week on Thursday, April 30. Link up with me if you have a blog or leave a comment letting me know what you are doing to eat more locally and sustainably.
I hope to see you here!
This post is my answer to the no GMO challenge.