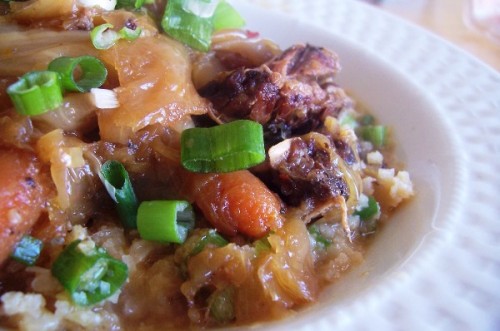 When I recently visited the library and sat down to flip through the latest Real Simple, I didn't expect to be copying a recipe down before returning it to the shelf. I couldn't resist this recipe's simplicity and one pot meal potential. Let's face it we all need more quick, easy meals from a slow cooker.
I changed up the original recipe a bit by halving the amount of meat and doubling the cabbage. I didn't even notice that there was less meat. The cabbage melts down into the rich, savory broth and becomes almost buttery. The dish is rich and flavorful, but the bright bite of the scallions cuts right through all of this.
Sweet, sour and spicy – this dish is quite the palate pleaser. And because you can throw it together in the morning and have a full meal at the end of the day, it is a schedule-pleaser as well.
Slow Cooker Asian Short Ribs with Cabbage & Carrots
adapted from Real Simple magazine
Recipe Notes: This was perfect served alongside caulifried rice (cauliflower chopped until the size of rice and fried as rice). Of course if you are eating grains, brown rice or millet would be the perfect accompaniment.
Ingredients
2 T. honey or ~1/8 tsp. stevia
1/4 cup rice vinegar
2 garlic cloves, smashed and peeled
1 tablespoon grated fresh ginger
1/2 teaspoon red pepper flakes
2 – 3 lbs. grass-fed beef short ribs (4-6 ribs)
5 medium carrots, peeled and cut into 2″ pieces
1 medium green cabbage (~2-3 lbs), cut into eighths
1 tablespoon sesame oil
4 scallions, thinly sliced
Directions
Optional step: In a large skillet, over medium heat brown the ribs on all sides.
In a 4-6 quart slow cooker, combine soy sauce, honey/stevia, vinegar, garlic, ginger and red pepper flakes. Add the ribs (browned or not) and the carrots, arranging in a single layer if possible. Lay the cabbage on top of the ribs and carrots.
Cook on high for 4-6 hours or on low 7-8 hours. After a few hours of cooking, or 30 minutes before serving, stir the cabbage into the juices in order to distribute the flavor.
Before serving, taste for seasoning and add salt as necessary.
Remove the bones from the ribs and set aside to use for stock.
Serve with a small drizzle of sesame oil and sprinkle with scallions.
this post is a contribution to Fight Back Friday