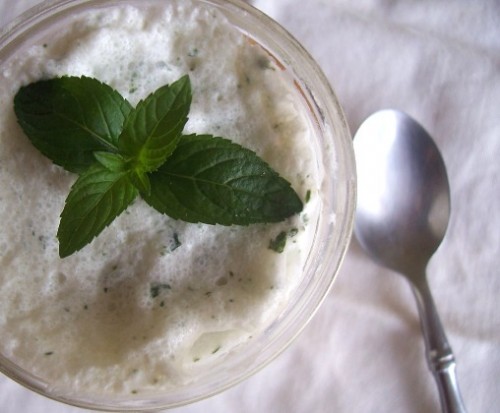 I have never eaten, nor cooked with, fresh mint. About the only thing I've ever used peppermint for is tea. But when I received a big bunch of black leafed peppermint in our csa last week it seemed like a shame to put it in boiling water.
Instead, I came up with this cross between a slushy and a milkshake. It is perfectly cold and refreshing for a warm day.
We liked it so much that we ate it twice as a dessert this past week. Hey, I needed to recipe test anyway, right?
Creamy Peppermint Shake
serves 2 or 1 generously
Recipe Notes: The consistency you achieve is entirely dependent on the equipment that you use for this. I used a stick blender, but did end up with a bit of a mess because it does not crush ice very easily. A counter top blender should work well for this.
You need a total of 1 cup of liquid (at least) for this recipe. I recommend using half raw cream, but you could use 1 cup milk instead.

I sweeten this with stevia, but you could also use raw honey or maple syrup to taste.
Ingredients
8 ice cubes
1/2 cup raw cream
1/2 cup raw milk or water
~15 fresh mint leaves, roughly torn (depends on the size of the leaves)
1/8 teaspoon NuNaturals stevia powder, or other sweetener to taste
pinch of sea salt
Directions
Combine all ingredients in the blender or in a hand-held blender caraffe. Blend until ice is crushed and desired consistency is reached.
Taste and add additional mint leaves or sweetener to taste.
Enjoy with a straw, spoon, or straight from the glass.