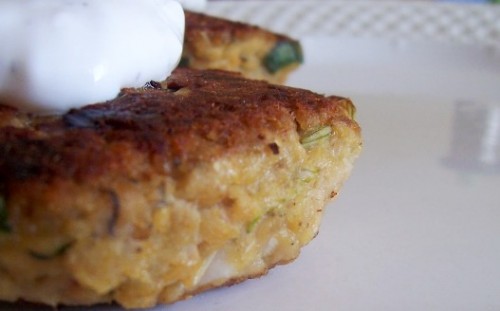 Canned salmon is humble, real food at it's finest. So it is nice to have a little variety and add a little something special to this simple pantry food.
That is why I have reworked my Italian style salmon cakes with lemon-caper butter to produce a Mexican flavored dish that uses much of the same ingredients, while providing that much needed variety.
Using fresh herbs from my herb pots and spring onions from the farmer's market adds freshness to these spicy and tangy little treats. The garlic & herb cultured cream on top is a wonderful contrast to the spiciness of the salmon.
Paired with a fresh salad, this dish will grace our table many times during the long, hot summer days to come. Don't forget the lemonade!
Mexican Style Salmon Cakes
Recipe Notes:
Here is a tip for mincing garlic in a hurry: if you are using a garlic press then there is no need to smash or peel the garlic clove. The skin will remain in the press and the flesh of the garlic will be pressed through. You will, however, end up with a little less garlic per clove, so adjust accordingly.
This recipe is for a grain-free salmon cakes, but if you can eat grains you could replace the coconut flour with 1/4-1/2 cup breadcrumbs.

Ingredients
2 eggs
1/2 medium onion, minced or 1 large spring onion
2 garlic cloves, minced
2 tablespoons chopped fresh cilantro (or 1 tablespoon dried)
1 teaspoon sea salt
juice of 1 lime, ~1-2 tablespoons
1/4 teaspoon red pepper flakes
1/4 teaspoon ground cumin
2 (14.5 oz) cans of wild salmon, drained
3 tablespoons of coconut flour or psyllium husks
2-3 tablespoons of butter for frying
Directions
In a medium bowl beat the eggs. Add the onion, garlic, cilantro, sea salt, lime juice, red pepper flakes and cumin. Mix thoroughly.
Add the salmon to the egg mixture. Don't fret about bones – they add calcium and you won't notice them. Mash the salmon and bones with the back of your fork and mix thoroughly with the egg mixture.
Add coconut flour or psyllium husks and mix thoroughly. While the coconut flour or psyllium absorbs the liquid, heat up a skillet over medium low heat. If after a few minutes you find the salmon mixture too moist, add more coconut flour or psyllium husks, one teaspoon at a time.
Once the skillet is hot and your salmon mixture is dry enough to for into patties, add butter to the skillet. Fry the patties on one side, without moving them, for 5-7 minutes. When the patties are easily removed from the skillet and a deep golden brown color, flip them over. and cook for another 5 minutes or so.
While the salmon cakes are cooking, prepare the garlic-herb creme fraiche.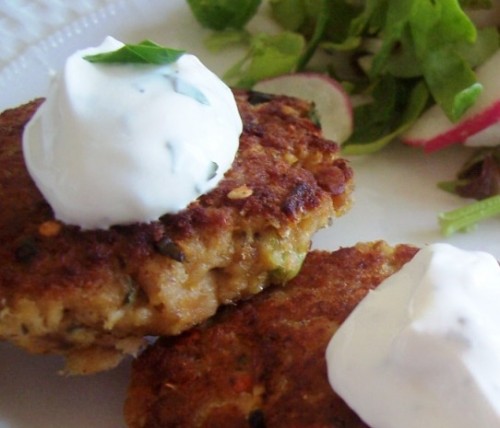 Garlic-Herb Creme Fraiche
Ingredients
1/2 cup creme fraiche or sour cream
1 large garlic clove, minced
~ 1 tablespoons of chopped fresh cilantro and/or parsley
1/2 tablespoon lime juice
1/4 teaspoon sea salt
1/8 teaspoon dried dill
Directions
Mix all ingredients well and chill for at least 15 minutes to allow flavors to blend.
Dollop on top of salmon cakes to serve.
This post is a contribution to works for me Wednesday.