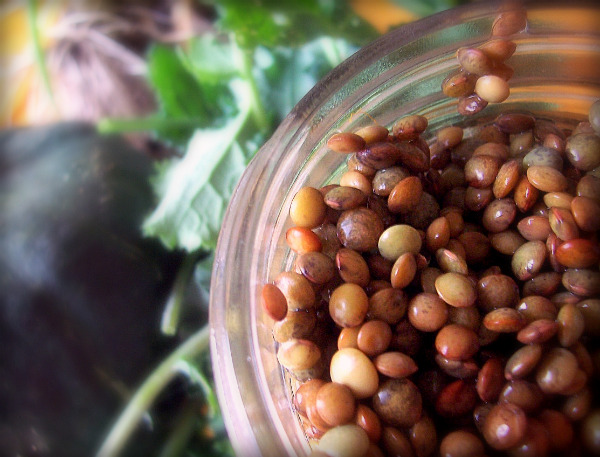 I am not sure if it is the fall weather, or the fact that these two ingredients can now come straight from our garden, but I am craving kale and squash in any combination.
Unfortunately these two foods do not a meal make for a family of four with two small children. And frankly, when I made this stew I thought for sure that my husband would not be a fan. I told him so when he asked what was for dinner.
Much to my delight he gladly polished off a bowl and more. Plus the leftovers for lunch the next day. His words? "Top 15 of all time." This one is husband approved, ladies.
There is something about the play of the earthy lentils with the sweet squash, hearty kale, and fragrant spices that make this dish so good. A stew like this is almost hard to pin down when eating, but so intriguing that you go back for more. And of course, this stew incorporates fall produce at its finest.
It can also be made vegan with just two adjustments, which I did not set out for, but was pleasantly surprised with. Call it vegan, call it frugal, I call it yummy.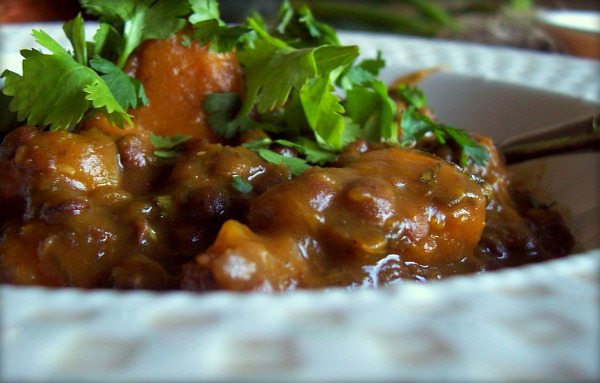 Spiced French Lentil, Kabocha, and Kale Stew (Vegan)
Recipe Notes: You're probably saying "wow, that recipe list looks long!" It is, but like all stews it comes together quickly as a one pot meal.
Ingredients
3 Tablespoons coconut oil
1 medium kabocha squash (buttercup or butternut are good stand-ins)
1 1/2 cups french lentils, soaked in warm water for at least 24 hours (4 cups after soaking)
1 quart stock, chicken or vegetable
1 medium onion, diced
3 garlic cloves, minced
2 cups water
1 bunch kale
1 1/2 teaspoons cinnamon
1/2 teaspoon ground cumin
pinch of cayenne
pinch of cloves
pinch of ground ginger
1/2 can full fat coconut milk
1 tablespoon honey
sea salt to taste
Lots of fresh cilantro
Directions
Prepare squash: Remove round bottom and top by taking off a thin slice from both ends. Place on flat end and peel either using a very sharp vegetable peeler or your chef's knife. Cut in half and deseed. Cut squash into 1/4" squares.
In a soup pot over medium heat add coconut oil and saute squash until nice and browned. (Squash does not need to be cooked through at this point.) Remove squash and set it aside.
In remaining coconut oil saute the onion until soft and then add the garlic and saute for one more minute. Pour in the stock and water and turn heat up to bring to a boil. Scrape the bits of browned squash off of the bottom of the pan. Pour in the lentils, return to the boil and then reduce heat to a low simmer. Cover and cook 1-2 hours or until tender.
Meanwhile chop kale into bite-sized pieces. When lentils are cooked through add the reserved squash, kale, cinnamon, cumin, cayenne, cloves, ginger, coconut milk, honey, and sea salt. Allow to simmer, uncovered, an additional 15-20 minutes or until it has reached your desired thickness and flavor. Taste and adjust with sea salt.
Top bowls with lots of torn fresh cilantro and serve warm on a cool day.
How are you serving up kale and squash this fall?