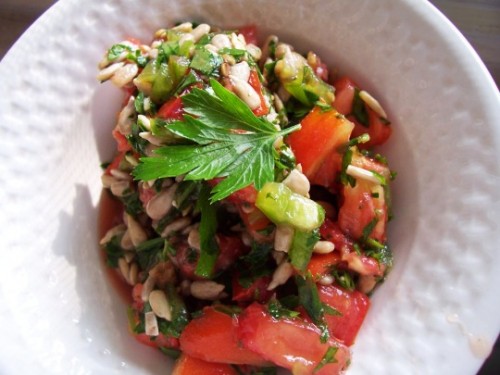 A couple of weeks ago I threw together this salad for the local chapter of the Weston A. Price Foundation's potluck. I had seen something similar to this in a low-carb cookbook a while back, so when I had a big bunch of parsley and bell peppers from our CSA and a kitchen windowsill full of garden tomatoes I knew I had to make this recipe.
Thankfully those who ate it at the potluck enjoyed it, and so have we, several times since. This is one of those salads that you can easily tweak to suit your taste preferences. We prefer lots of garlic, but if you don't you can only include one clove or leave it out entirely.
This makes a great light lunch or sidedish alongside other vegetables and a protein. It is grain-free, gluten-free, dairy-free, high in protein and fairly low in carbohydrates so there is a little bit of something for everyone. Plus it's really refreshing and tasty. It may be a little late in the season for this recipe, especially since we are expecting a frost this week. But if you are like us and are still blessed with tomatoes ripening on your kitchen table and plenty of herbs and peppers from your CSA then this recipe could be just the ticket to remembering summer during this early fall weather.
Grain-Free Tabouli
Recipe Note: I have seen tabouli spelled several different ways and made with many different types of ingredients. The common denominators are lots of parsley and bulgur wheat, which is replaced here with nuts or seeds. Play around and add or subtract things depending on what is in your pantry or refrigerator.
2 green onions, sliced thin
3-4 garlic cloves, minced
1/2 bell pepper, diced
2 cups of parsley, chopped fine (~1 cup after being chopped)
2 – 3 tomatoes, diced
~1 cup of crispy nuts or seeds (sunflower seeds are nice as are chopped almonds)
2-3 tablespoons of lemon juice
3 tablespoons olive oil
sea salt and pepper to taste
Mix all ingredients and allow the flavors to blend for at least 15 minutes.
Before serving taste for salt and pepper and adjust seasoning accordingly.
This post is a contribution to Pennywise Platter Thursday.