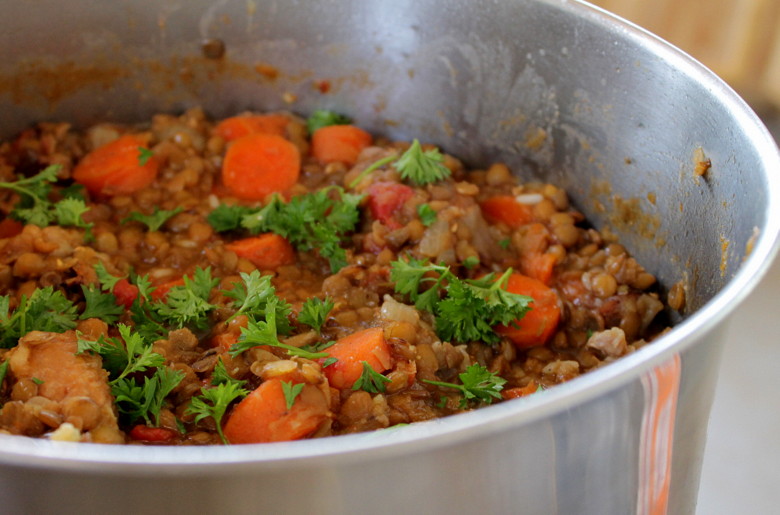 Growing up with two brothers, I remember the astonishing amount of food they could consume as teenagers. They were active and busy and could eat an entire loaf of bread made into pb&js… and that was just in between meals. (Not that us girls are slouches in that department; I just never packed sandwich fixings for 15 next to my algebra book and gym shoes is all.) Now I'm raising boys of my own. They are active and busy and at eight and six they often eat more than I do at a meal.
I can easily spend my entire day in the kitchen – cooking, preserving, baking, and pretty much never catching up on those dishes. Crazy as it sounds, I don't mind it at all, especially when I'm surrounded by windows and have the room to make a mess as I do now. But sometimes I know I need a little bit of leeway in my day. If I know I'm going to be working on some freelance projects or we've got some garden produce that needs preserving, I try to make a huge pot of something. After the initial meal, I tuck it away into the solar freezer and pull it out over the next couple of days, adding salads or remaking the spice profile to liven it up a bit.
Cassoulet – a traditional French dish combining various meats, beans, and vegetables – is a great concept that I've taken liberties with for this recipe. It's a great way to use up whatever cuts of meat you might have around by combining them with inexpensive legumes and flavorful garden herbs and fresh vegetables, like this uncured garlic brought to me fresh from the soil by our younger son.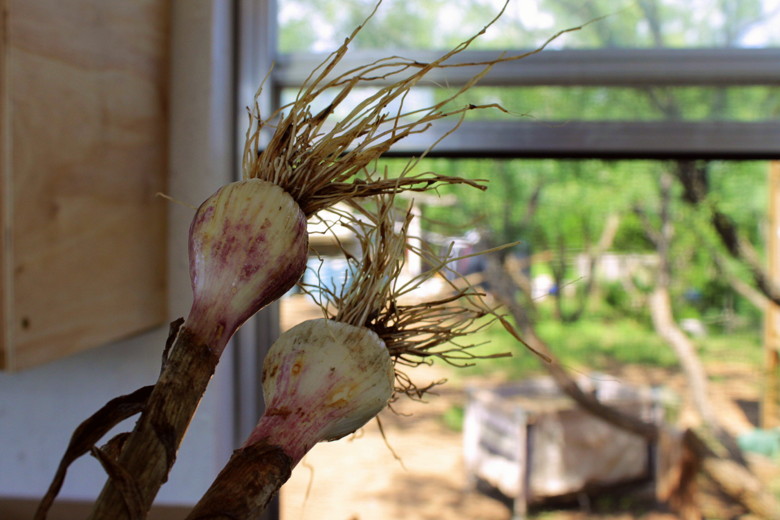 I cook a lot of meals like this, these days – just a whole bunch of protein, a little starch, and whatever garden veg we've got laying around. Lately we've had more mustard and chard greens than anything else so that finds its way in and it's a one pot meal. The cow peas are now producing and the summer squash is almost there, so our meals are just starting to shift to using more of those vegetables as a main dish and various greens and things I find here and there become the salad.
But I've veered off course a bit… or maybe not. If I'm to put much time into the gardens, in addition to the majority of the work done by Stewart and the boys, a pot like this comes in handy. And since I like my hands covered in soil rather than dish water, I make something along these lines about once a week.
And did I mention it's pretty inexpensive?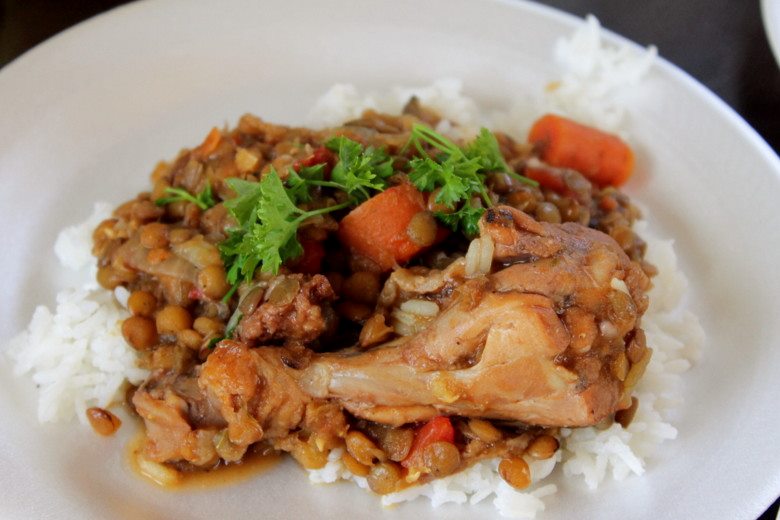 Chicken & Lentil Cassoulet

Ingredients
6 oz sausage – any flavorful and fatty bulk or cased will work
2 lb chicken pieces (bone-in, skin-on)
2 large onions, chopped
8 carrots, chopped
1 lb lentils
6 cups broth or water
1 15 oz can tomatoes
1 head garlic, peeled and minced
1 tsp thyme
¼ teaspoon red pepper flakes
½ teaspoon black pepper
 2 Tablespoons sea salt, plus more to taste (less if broth is salted)
fresh parsley, for finishing
Directions
In a Dutch oven over medium heat, brown the sausage until at least a portion of the fat has rendered. Transfer the sausages to a plate and add chicken pieces to the pot, skin side down. Cook the chicken for 4-6 minutes per side, or until golden brown. Transfer chicken pieces to plate and add onions and carrots to pot. Brown vegetables for several minutes, stirring occasionally.
Once the vegetables have begun to soften and caramelize, add the lentils, broth, tomatoes, chopped garlic, thyme, red pepper flakes, and black pepper. Season with salt. Stir in the sausage and lay the chicken pieces atop the other ingredients. Cover, bring to a simmer, and then turn heat to low.
Simmer cassoulet for 30-45 minutes or until lentils and vegetables are tender and chicken is cooked through. Plate and season as needed with salt and chopped fresh parsley. Sprinkle over good quality vinegar and serve over rice, if desired, with a fresh salad or fermented vegetable.