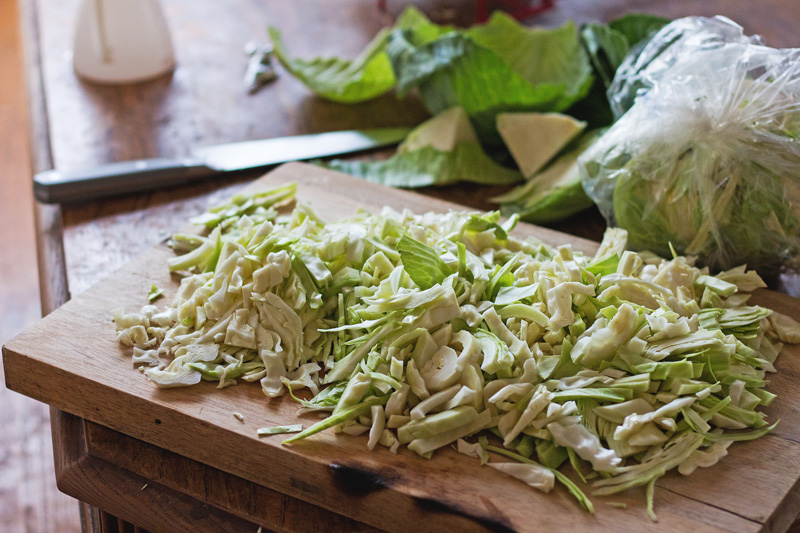 For about a year now I have been trying to eat as many greens and brassicas as I can, though some days contain more than others. I kind of eluded to this at one point or another but a couple of years ago I started to feel generally unwell. Actually, now that I am feeling better, I dare say I was feeling quite unwell.
For half of my life I remember feeling like I had stomach problems. At one point in college I was fairly certain it was serious and felt so unwell that I actually gave up my soda habit and completely overhauled my diet and became kind of unhealthily obsessed with a no-fat, low calorie way of eating. From time to time I would have symptoms again but by the time I hit 23 and we had our first child, I was eating mostly real foods and hadn't really had a relapse… until a few years ago.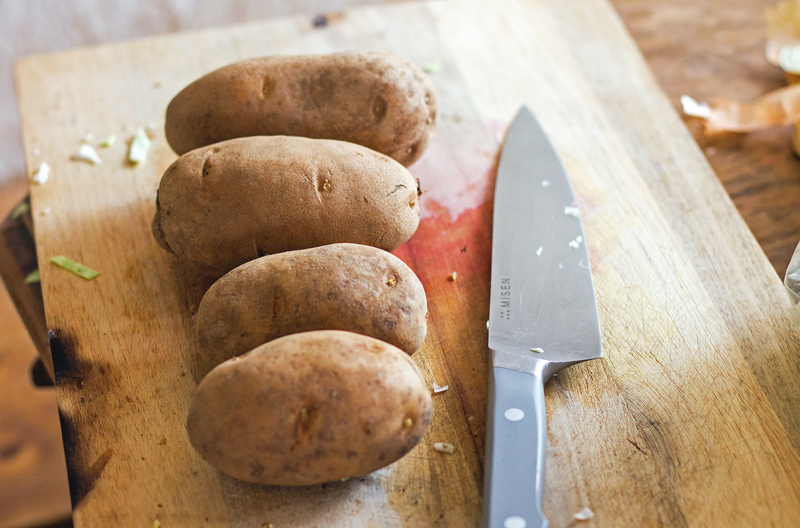 That's when I figured out that it was not, as I thought, my stomach but rather my gallbladder. It was sort of tied in with a food sensitivity, hormone imbalances, and a fatigue that had me propping myself against the kitchen sink most days just trying to get through the dinner dishes.
So I read up on gallbladder and liver health and so long as I avoid some foods and make an effort to eat others, my symptoms have greatly improved. Food is medicine… or poison, depending on what you are eating.
What's so great about brassicas?
As you may have guessed, brassicas, also known as cruciferous vegetables (and greens in general) are on the list of medicinal foods I have been trying to eat regularly. These are the cabbage family vegetables such as broccoli, cauliflower, collards, kale, cabbage, and my very favorite Brussels sprouts.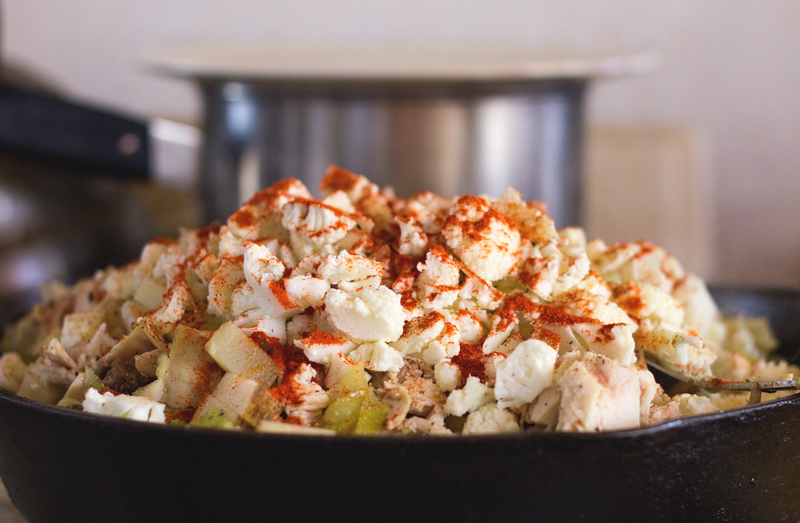 We all know that broccoli and kale are good for us, right – probably mostly because people keep saying they are. But there is more than just hype to these little guys. It seems they have liver-detoxing, cancer-fighting, microbiome-feeding compounds and fibers that we could all greatly benefit from.
This article and many others have full details about the many benefits of brassicas. Needless to say, my seedling shelf is now loaded with cabbage, collard, and kale seedlings.
What About the Thyroid?
At some point I had read somewhere – was it Nourishing Traditions? – that these vegetables contain goitrogens which can negatively impact your thyroid health. I think that deterred me, somewhat, from eating these nutrition-packed veggies.
I have since learned that unless you have a serious thyroid problem or iodine deficiency, these foods are fine to eat every day. There is more information in this article but essentially, eating more of them cooked than raw is also supposed to help neutralize the compounds in question. And avoiding them really doesn't seem a good solution for most people.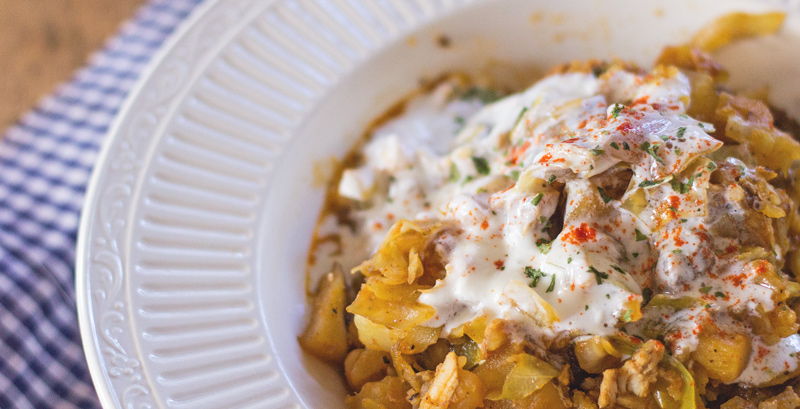 One Pan Meal: Two-Brassica Skillet
To sum it up, I am trying to eat a meal or two per day that include a good amount of these veggies… as I can. But I rarely cook separate meals just for me, so making these guys appealing to the whole family keeps this simple. This dish does just that. Use leftover diced chicken or cook ground beef right into this dish.
Ingredients
1/4 cup coconut oil or lard
1 small head cabbage, thinly sliced
1 large onion, thinly sliced
1 lb meat – either cooked leftover and chopped or raw ground beef
4 medium russet potatoes, chopped into 1/2″ dice
1/2 large head of cauliflower or 1 head broccoli
2 Tablespoons sweet paprika
1 teaspoon garlic powder
1 cup homemade broth
salt and pepper to taste
sour cream to serve
Directions
In a 12-inch cast-iron skillet, melt the coconut oil or lard over high heat. Once the skillet is hot, add the thinly sliced cabbage and leave to cook for 4-5 minutes before stirring. Add the onion, and raw ground beef if using, and cook with the cabbage for five more minutes or until beginning to brown and wilt.
If using leftover chopped chicken, beef, or pork, add this to the skillet along with potatoes and cauliflower. It will mound up well above the rim of the pan. Season with paprika, garlic powder, and salt and pepper. Pour broth over the whole thing, give it a careful stir and place the lid on the pan.
Turn the heat down to medium and cook, stirring occasionally, for 10-15 minutes or until the potatoes and all other veggies are tender. Taste for seasoning and add salt and pepper as needed.
Serve with sour cream and a sprinkle of parsley and paprika, as desired.