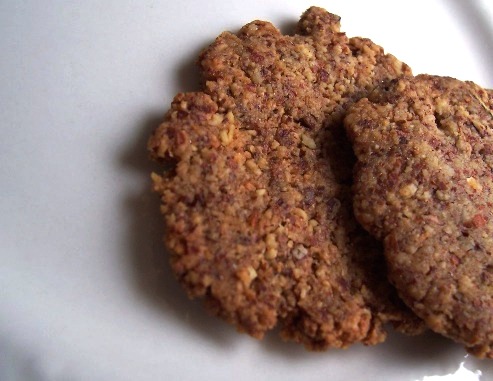 Being grain-free through the summer was fairly easy. Salads and vegetables were abundant and felt just right in the warmth of summer. Now that fall has arrived I realize that I am craving more substantial, hearty food. A couple of times a week I eat soaked oats for breakfast, but beyond that I am still trying to stay away from grains. So I wanted a grain-free cracker to go with all of the soups that we've been eating lately.
My husband loves bread so sourdough bread is certainly on his list of soup accompaniments. But sometimes a crunchy cracker is in order, especially when I made this delicious pumpkin soup last week. The protein and fat from the almonds really turned that soup into a meal and left everyone satisfied.
Served with cheese or liver pate they can make a grain-free meal or can be a delicious snack on their own. My three year old agreed that the next time we make these we'll have to make a double batch in order to keep up with the demand.
And if you're wondering about whether or not you have to soak and grind your own almonds take a look at Kimi's article regarding the neutralization of enzyme inhibitors.
Almond Crackers with Garlic & Rosemary

Recipe Notes: I used almond meal from Trader Joe's, which is the least expensive I have found it. The key to making sure the crackers bake well and come off the sheet pan correctly is to be very liberal in buttering the pan.
2 cups almond flour/meal
3/4 teaspoon sea salt
1/2 teaspoon garlic powder
1/2 teaspoon chopped, dried rosemary
1 large egg
Preheat oven to 350 degrees. Using butter or coconut oil, grease baking sheet very liberally.
In a medium-sized bown stir together almond flour, salt, garlic powder and dried rosemary.
In a separate, small bowl, whisk egg until frothy. Add desired oil and mix. Pour egg-oil mixture into the dry ingredients and mix until the dough is well blended.
Make the crackers: Take 1 tablespoon of dough and flatten it slightly between your hands. Place on liberally greased baking sheet and, using your fingers, flatten further until the cracker is 1/16-1/8 inch thick. If your sheet pan is greased well enough it will not stick. Alternatively, you could try lining the pan with parchment paper, placing tablespoons of the dough on the pan, covering with a second sheet of parchment paper and rolling them out. I have not used the latter method, so can not speak to it's efficacy.
Bake for 10 minutes or so, until firm and lightly golden brown. Allow to cool before removing from baking sheet.