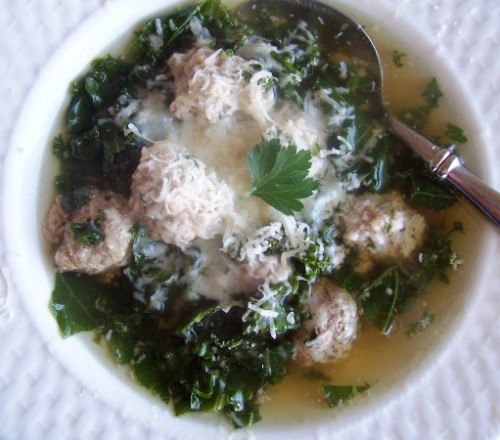 My recipe index seems to indicate that I'm a soup kind of gal during the colder months. I have added eight soups or stews since the fall. I hope you're not sick of them yet. It is starting to thaw out, but until it warms up a bit more I think I'll keep serving up soup. It is just so economical, simple and tasty. Summer salads will be here soon enough. Oh for a tomato with taste.
As I was putting this soup together it dawned on me that it is perfect for pregnancy. At least it would make my midwives happy – if I were pregnant, that is. There is plenty of both protein and fiber in the meatballs, having used psyllium as a substitute for breadcrumbs. The chicken stock provides a lot of minerals, especially calcium. And greens. You just can't get enough greens – pregnant or not.
This soup is absolutely delicious, filling and super nutritious. And not just for mamas.
Italian Meatball Soup with Greens
Recipe notes: I have used both kale and spinach in this soup with great results. Don't be shy with the amount of greens you add. "This is just going to taste like spinach." will cross your mind, but you are wrong. Feel free to use your own meatball recipe. This one is gluten free and grain free for those who need it. You don't need to worry too much about having enough salt in the meatballs – the broth flavors the meatballs and the meatballs flavor the broth.

Ingredients
Meatballs
1 small onion, diced fine or grated
4 large garlic cloves, minced fine
1/4 cup finely chopped parsley
2 eggs, beaten
2 big pinches of salt
black pepper
2 Tablespoons parmesan cheese
2 Tablespoons psyllium seed husks
1 1/2 lbs grass-fed ground beef
In a medium-sized bowl mix together all ingredients except ground beef. Add beef to bowl and gently mix the ingredients into the beef. You do not want to "squish" the ingredients into the beef, otherwise you will have tough meatballs. Tip: If you are worried about the meatballs having enough seasoning, make a very small meatball or patty shape. Fry it in the same pan you will be making the soup and give it a taste. Adjust seasoning accordingly.
Set aside while you heat the stock and trim the greens.

Soup
3 quarts homemade chicken stock
1 large bunch of kale or spinach, chopped into bite-sized pieces
Pour chicken stock into a large soup pot over medium-high heat. Bring the stock to a boil and then reduce heat to a simmer. Meanwhile, prepare your greens.
Once your stock is at a gentle simmer, it is time to form your meatballs. You can form them ahead of time and store them on a sheet pan, if you'd like. Otherwise, make walnut-sized meatballs (think bite-size) and gently drop them into the stock, one after another. There is no need to rush as the meatballs will be kept tender by the stock. Once all of the meatballs are in the stock, gently stir. You do not want to break up the meatballs.
Simmer the meatballs for about 5 minutes and then gently stir in the greens and a large pinch of salt (if your stock was unsalted to begin with). Simmer for an additional 10-15 minutes. Taste and adjust for seasoning. Don't be surprised (if you used unsalted stock) if it needs quite a bit of salt.
Serve with freshly grated Parmesan and/or fresh parsley.