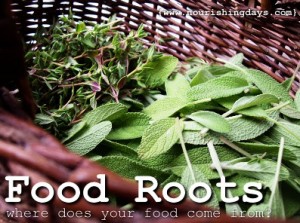 "Or what if I had simply grown up in a time when food was seasonal? When there was, in each year, a time of more and a time of less? When food was not just there in packages on the supermarket shelf all year?"

~ Jessica Prentice ~
Welcome to another edition of Food Roots!
Our food system is destroying the soil, wasting valuable resources and making us sick. The only thing that is sustainable and the only thing that can reverse the many complications of a broken food system is to get back to our food roots. We must plant the seeds ourselves. We must shake the hand of the farmer who grows our food. We must take back our food system.
Where Does My Food Come From?
Things are really starting to pick up now with fruits of every shape and size and vegetables galore being available at all of the farmers market. Yesterday we picked up cherries and peaches from the market and I spent a good part of the morning pitting cherries. Today I hope to make peach sauce or jam. On Friday we picked 14 lbs. of blueberries, dehydrated half and froze and ate the rest. We hope to pick another 14 or so pounds tonight.
Cucumbers are being made into pickles and while the veggies pour in through our csa I freeze a little here and there. With all of these time consuming tasks taking up our days I am struggling to find balance.
Certainly spending time on the computer is not going to help. Which is why I have no second post for you today. Only a new food roots banner, a photo of herbs collected from our garden.
How do you all keep things running smoothly in your home while attempting to put up as much food as possible?
So I ask you again…

Where does your food come from?
To participate in Food Roots…
create a blog post pertaining to local, seasonal foods or what you are doing to find your food's roots.
in your post add a link back here so that others can benefit from everyone's information and encouragement.
add your name and url to mr. linky below.
Feel free to use the Food Roots banner above, if you wish. If you do not have a blog, please share your thoughts in the comments.
I can't wait to see what you all come up with. Thank you for participating!