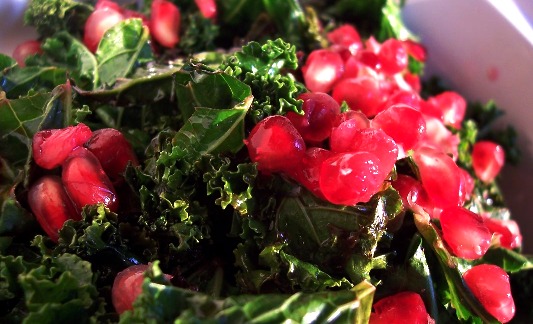 I don't usually have juice in the house. It is not a whole food and can shoot your blood sugar up like no tomorrow. So when the POM Wonderful people sent me some pomegranate juice I wasn't really sure what I would do with it.
Because I am so sensitive to sugar I use juice as a sweetener, which means I use it very sparingly. So when I wanted to create a sweet and sour kale dish the pomegranate juice was a natural choice for a sweetener. It's sweet and fruity flavor is a great balance for the slightly bitter kale. The pomegranate fruit we had on hand lended a nice texture and color contrast.
I could eat a huge bowl of this as a meal, which is not something I would normally say about kale. I served it alongside coconut chicken curry and brown rice for my boys. It would make a beautiful addition to a Thanksgiving table, especially considering the fact that it can sit in a warm oven for quite some time before being served. It's also a lovely blend of colors, which means it's not bad on the eyes either.
On a totally unrelated note… I have a very exciting giveaway coming up, so be on the look out!
Sweet & Sour Braised Kale with Pomegranate

Ingredients
1 bunch of kale, approximately 7-10 large leaves, chopped roughly
2 tablespoons bacon grease, lard, or coconut oil
3 tablespoons pomegranate juice
1 tablespoon apple cider vinegar
3-4 tablespoons pomegranate seeds
salt & pepper to taste
Directions
Preheat oven to 200 degrees. Warm up a large skillet over medium-low heat. Add oil/grease and allow to melt. Add chopped kale and saute for 3-5 minutes with a pinch of salt, until leaves have wilted slightly.
Add pomegranate juice and apple cider vinegar to pan and cook for another 2 minutes or so, until liquid has evaporated by about half.
Transfer kale to an oven-proof covered dish and place in preheated oven. Allow to braise for at least 20 minutes, or until the rest of your meal is ready to serve.
Remove from oven, taste for seasoning, and add salt and pepper if necessary. Sprinkle with pomegranate seeds and serve.
A thank you to POM wonderful for supplying me with a sample of their juice.