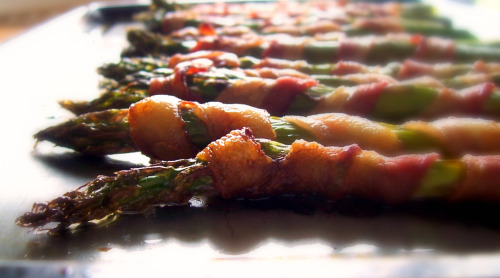 In the spring we like to eat our fair share of good ol' simple roasted asparagus. It makes for a great side dish.
But if you have plenty of really fresh asparagus this is a great dish to make it the main course. Served alongside fried, poached, or soft-boiled eggs, these make a delicious little dipper for blazing orange spring egg yolks.
Roasted Bacon Wrapped Asparagus Spears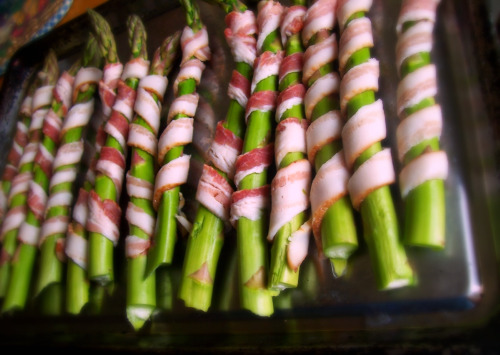 Recipe Notes: You can make as much or as little of this dish as you want. Simply use twice the number of asparagus spears as bacon strips.
Ingredients
14 thick asparagus spears, ~ 1 lb.
7 strips of good-quality bacon
salt and pepper to taste
Directions
Preheat oven to 400 degrees. Prepare asparagus: break off tough ends by snapping 1-2 inches from bottom. Peel bottom portion of asparagus spears if desired.
Prepare bacon: cut all bacon strips in half length-wise. You should end up with 14 long, thin strips of bacon.
Starting just under the tender tips, wrap the bacon in a spiral motion down the asparagus. Overlap the first bit of bacon to create a tighter wrap.
Place spears, seam side down if possible, on a rimmed baking pan. Roast at 400 degrees for 20-25 minutes or until bacon is cooked to desired crispness. Season with black pepper and salt if using a lower sodium bacon.
Serve over a salad or as dippers for soft cooked eggs.