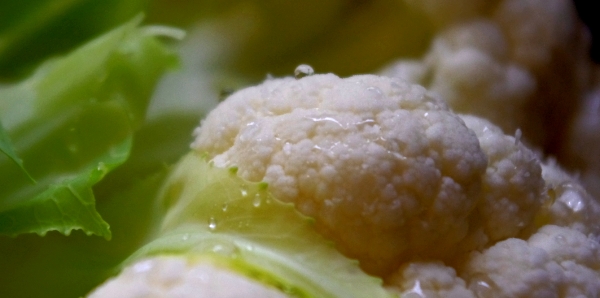 What to eat besides fairly bland soups is the trickiest part of preparing GAPS-legal meals for me. Everything I've ever learned about cooking tasty foods for my family is pretty much out the window. You don't brown meat, you boil everything into submission, and very little spices are allowed.
So I suppose I am forced out of my comfort zone and so is my husband, the one actually on the intro diet. His favorite foods are almost invariably Mexican. I think when I asked him if I could get him anything the other day he answered "A GAPS-legal grilled stuffed burrito, please."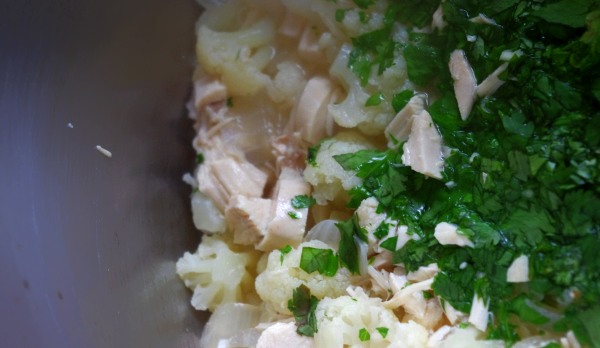 Sorry, hun, no can do. (It's a good thing he's a trooper.)
Fresh cilantro, onions, and garlic are all legal, though, so I came up with this soup. A squeeze of lemon juice, which I think is legal, really livens the whole thing up to give your dinner guests something other than plain boiled meat and veg.
It's no grilled stuffed burrito, but it definitely leaves you feeling more nourished than nauseous, which we can't necessarily say about the that other "food".
Mexican Chicken & Cauliflower Soup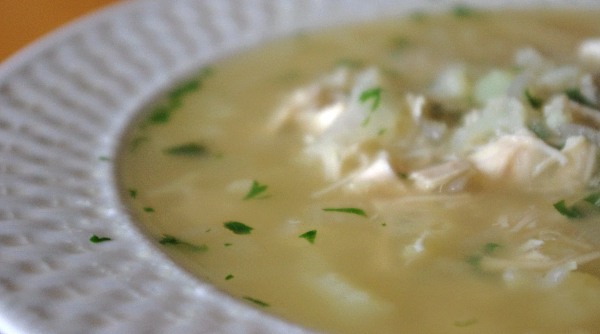 Ingredients
2 lb. head of cauliflower
6-8 cups of bone broth
2 medium onions, diced
6 garlic cloves, minced
3 heaping packed cups of cooked, cubed chicken
1/4 cup chopped cilantro
juice of 1/2 lemon
Directions
Bring bone broth to a boil in a Dutch oven. Meanwhile, prepare cauliflower by removing florets from all tough stalks and breaking into bite-sized pieces.
Once broth is simmering add cauliflower, onions and garlic with a generous pinch of salt. Simmer for 20-30 minutes or until vegetables are very soft.
Once vegetables are soft add chicken, cilantro, and lemon juice. Allow chicken to just warm through and remove from heat. Taste for seasoning and add sea salt as desired.
Serve in bowls with avocado, hot sauce or red pepper flakes, and additional cilantro as you are able on the GAPS diet. My husband enjoyed his without any of the above and still really liked it.
What are you cooking up this week?