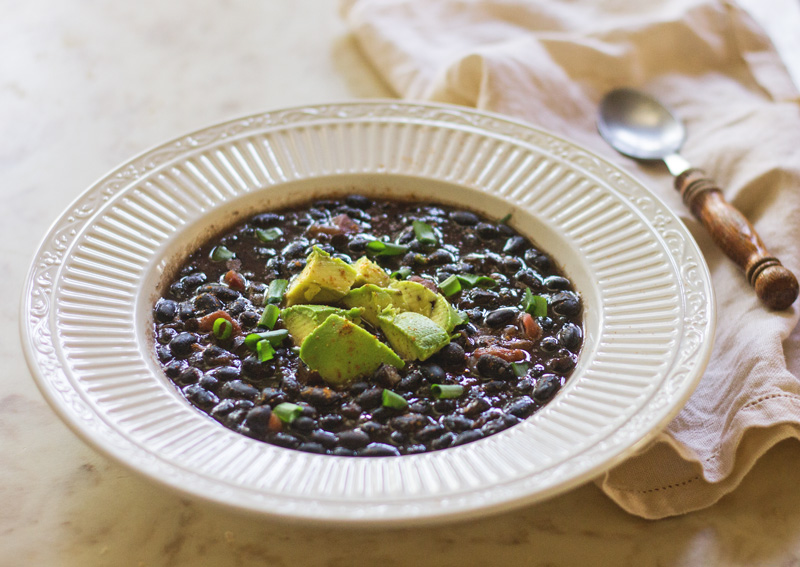 We eat beans or legumes nearly every day in our home. I suppose that is one way we feed this growing family of ours real food on a budget. Beans and rice, beans and tortillas, lentils or hummus, and bean soups are not all that glamorous, but they are inexpensive, nourishing fare that can go with a glass of Mabel's milk and whatever we're picking from the garden.
This Simple Black Bean Soup is something I've been making a couple of times a week as it is made with just a hand full of simple ingredients. Beans, water, garlic, cumin, tomatoes, and cayenne, to be exact. No bone broth, no blending or smashing; just a bowl full of beans in their own broth with plenty of flavor.
We like to top it with onions, avocado, and cilantro… or whatever else is hanging around. One of the most key factors in cooking beans, I have found, is to not add anything acidic to the pot until the beans are completely tender. The acidity seems to prevent them from softening further. So sample a few beans for tenderness before adding the tomatoes and vinegar. It can make all the difference.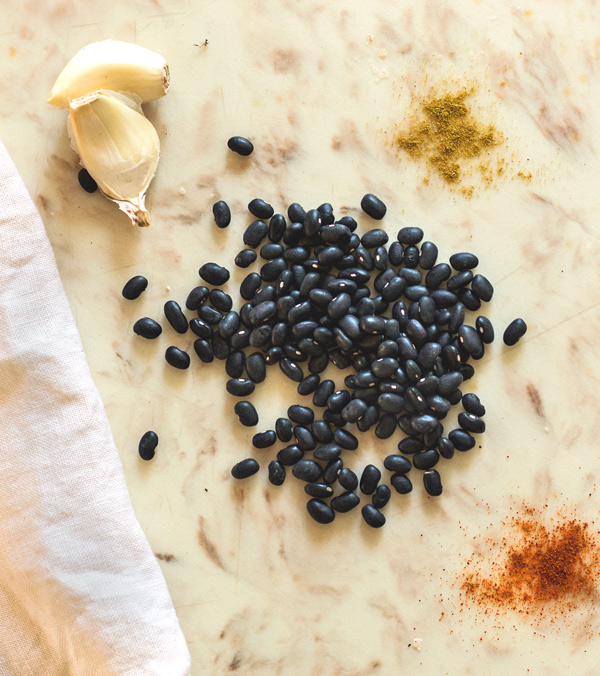 A Simple Black Bean Soup
Ingredients
2 lb dried black beans, picked over
6 garlic cloves, peeled and minced
1 Tablespoon ground cumin
1/2 teaspoon ground cayenne
1 quart diced tomatoes (or equivalent)
1 Tablespoon apple cider vinegar
Water, as needed
Chopped onion, avocado, cilantro, or sour cream to serve, as desired
Directions
Soak the beans overnight in at least two quarts of water. Alternatively, perform a "quick soak" by covering the beans in two quarts of water and bringing to a boil. Turn off the heat and let sit for one hour before proceeding with the recipe.
Drain off the soaking or "quick soaking" water and cover the beans with fresh water to at least three inches above the beans. Add the garlic and cumin and place over high heat. Bring to a boil, cover, and allow to simmer for 1-2 hours or until beans are completely tender, adding more water if needed as the beans soak up moisture.
Once the beans are completely tender, add the cayenne, tomatoes with the juice, vinegar, and salt to taste. If the beans taste flat, be sure to salt them enough.
Serve beans with their broth in bowls with desired toppings.